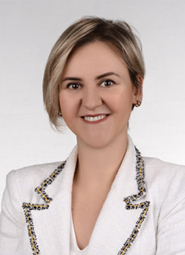 M: satik@zesalaw.com
T: + 90 212 709 36 52

Sibel Yılmaz Atik
Sibel Yılmaz Atik is a partner of ZESA Attorney Partnership in Istanbul. Sibel Yılmaz Atik's practice focuses on competition & antitrust law, mergers & acquisitions, joint ventures, corporate and commercial law as well as cartel litigation. She has an extensive industry experience in pharmaceutical, tobacco, automotive, FMCG, telecommunications, media, energy, banking and finance sectors.

She is playing active role in competition and regulatory compliance programs where all procedures of a company are analysed in order to ensure the compliance with law and her advice focuses on interpretation and application of sector-specific regulations such as those of energy, pharmaceuticals, automotive and telecommunications along with the competition rules. Her main areas of expertise include merger control, antitrust-related distribution and contract law, competition compliance, the representation of companies in cartel investigations and competition litigation.

Sibel Yılmaz Atik is a Ph.D. candidate in Private Law at İstanbul University. She achieved her LL.M. in Law of Economics from Galatasaray University and graduated from Marmara University School of Law.

She is a member of the Istanbul Bar Association.

Sibel Yılmaz Atik was admitted to practice in 2006.